Have you ever thought about earning passive income? Chances are, if you're like the rest of us, you probably have. Earning money when you're not actively working is one of the best ways to build wealth over time and easily some of the best investments you can make. When looking at different ways to create multiple streams of revenue, having your money work for you is one of the top options out there! For me, that's meant looking at a variety of different methods for generating passive income and I'm particularly excited about one of my most recent finds in the crypto world, Arbitraging.co (ARB).

Arbitraging is the name of a platform that does automated arbitrage trading. Many out there are already familiar with what arbitrage is, but if you're not, don't worry; here's a quick rundown.
Since the markets are not 100% efficient all the time, there are often different prices on different exchanges for the exact same cryptocurrencies. Let's say "MakeBelieveCoin" (MBC) is trading for $100 on exchange A, but another cryptocurrency exchange (exchange B) trades MBC as well, only it's trading at $92. To take advantage of this price difference, we can buy 1 MBC on exchange B at $92 then immediately sell it on exchange A for $100 and profit the difference (times how many coins you bought/sold).
Arbitraging is all about seeing opportunities in the market and capitalizing on the with minimal risk and lack of downside. Pretty great, right? But, that does require a lot of work and I'm interested in passive income, not constant working.
That's why I want to share Arbitraging.co with everyone. The platform uses an automated trading bot, called aBOT, to buy-sell-profit popular cryptocurrencies across different exchanges. All you have to do is set up the bot and use your money to start arbitraging automatically. aBOT does all the arbitraging for you; all you have to do is sit back, relax, and let the bot handle the arbitrage operations.
Because arbitrage trading revolves around only making a trade when you know there's a price difference that can be taken advantage of, you end up with steady returns on your initial investment, time and time again. Since I've starting using the system, I've been able to make up to 1% a day! If you take a look below I have included a screenshot of the last 30 days, you'll see that the results speak for themselves.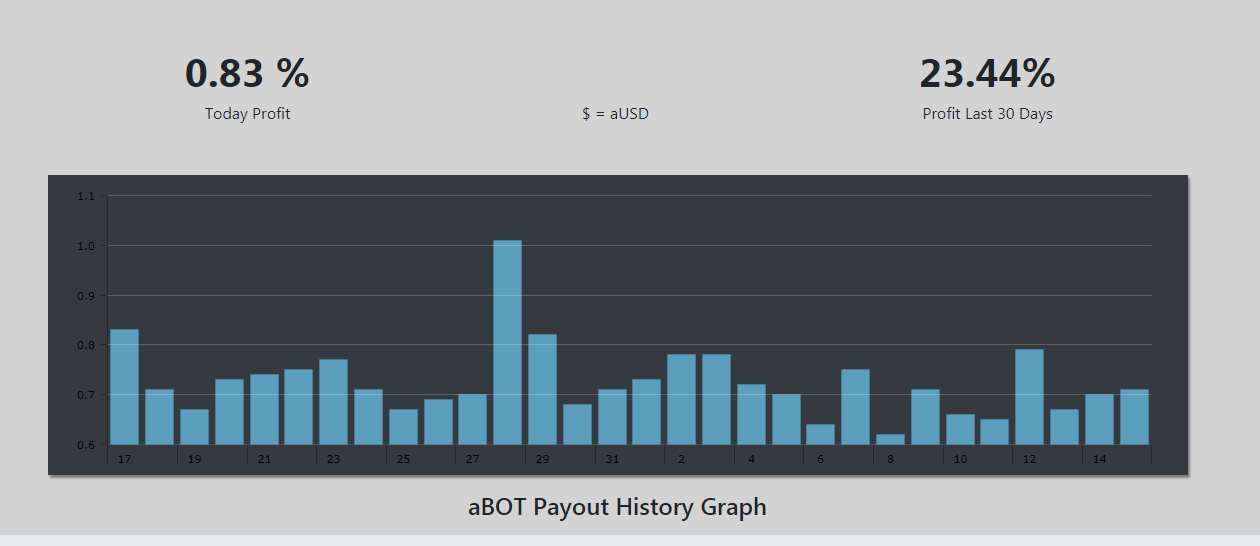 If you're a bit more of an active investor, Arbitraging.co also recently released mBOT, which is a more hands-on, manual approach to arbitraging that you can take advantage of as well. But if you're like me and are looking for consistent low-risk returns and love passive income, then aBOT is worth looking into.
If this article was helpful in any way, please consider registering to the platform with my afllliate link. I would be very grateful. https://www.arbitraging.co/platform/register/affiliate/BB1xO2nC
Click here to register using my affiliate link.
This site contains affiliate links to products. We may receive a commission for purchases made through these links.
This is not financial advice. Please do your own research.